Android phones are becoming powerful every day so the gaming community now making high graphics games for mobile that's why we can easily play high graphics games with the latest mobile phone but if we have an old smartphone so what can we do? Yes, you can play, but you have to follow these steps before playing your game on high fps.
So let's start with the PUBG Mobile game, we will guide you to the best settings for PUBG Mobile which increases your more fps for playing smoothly on your device. Players Unknown's Battlegrounds (PUBG) is a graphical game, PUBG Mobile app automatically detects your hardware and defines the best graphics settings for your device
How to increase fps?
Even on expensive devices you only can set graphics to HDR and the frame rate is set to High. Anyways you can unlock the extreme frame rate mode on PUBG Mobile and enjoy 60 or 90 fps for better gameplay.
There is an app called GFX Tool, with this app you can unlock your mobile limits to get the highest graphics and frame rate settings. First, download the app from your play store or the given link and launch the GFX Tool app and grant all the permissions.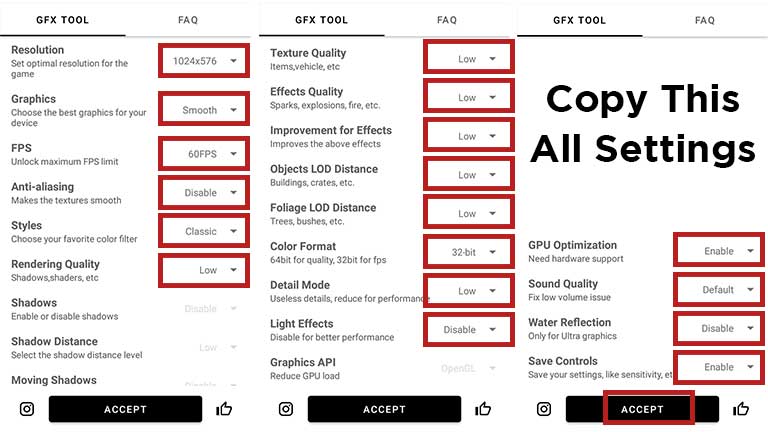 Configure all the settings for increasing your fps
Select version 1.5.X(Global)
Set the resolution lower (we recommend 1024×576)
Set Graphics to Smooth
Set the fps to 60 or (90 if supported)
Set Anti-Aliasing to Disable
Set Styles to (Any style you want we recommend Classic)
Set Rendering Quality to Low
Set Texture Quality to Low
Set Effects Quality to Low
Set Improvement for Effects to Low
Set Objects LOD Distance to Low
Set Foliage LOD Distance to Low
Set Color Format to 32bit
Set Detail Mode to Low
Set Lights Effects to Disable
Set Graphics API OpenGL
Set GPU Optimization to Enable
Set Sound Quality to Default
Set Water Reflection to Disable
Set Save Controls to Enable (for saving all your settings)
Hit Accept and press run to launch the PUBG Mobile
Check if the new Graphics and frame rate options are enabled.
in-game go to the settings and check to make sure you select smooth under the graphics and also extreme is selected under the Frame rate.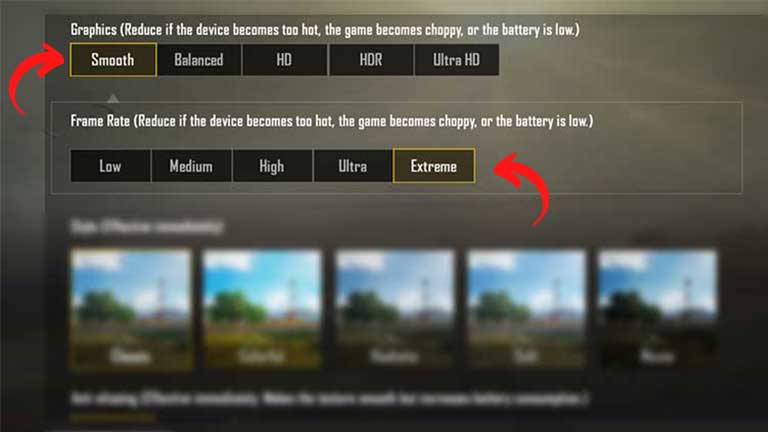 These options are not available by default on almost every android device now we enable those modes if they are enabled for you so now you can enjoy your game with 60 fps.
First, try this all steps and thank us later <3